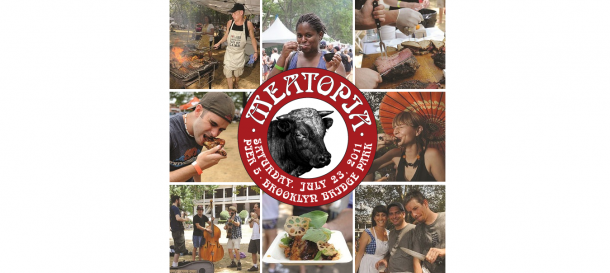 Note: Josh changed his WordPress theme/layout for Meatopia 2012. He is no longer using the Meatopia 2011 WordPress theme I developed for him. Perhaps he archived my theme/layout for the future, as a piece of rare and unique art. (As I was finishing the 2011 design, Josh had me add his sponsors' images above and below his Meatopia logos. I felt the positioning of those sponsor logos hurt the design.)
Josh Ozersky, the national dining columnist for Time magazine, asked me to design and develop a new website for the 2011 New York City Meatopia outdoor dining event–Meatopia 2011. Josh specified a clean, minimalist design complete with photos that when rolled over with a mouse cursor reveal links to important internal pages (location, ticketing, chefs, sponsors, contact, about, diary).
Josh's annual Meatopia events are "the must-attend meat events of the year in New York City": forty-five famous chefs from all over the U.S.A., barbecued pork, lamb, beef, goat, and chicken, plus beer, music, and fresh air beside the water on Saturday, July 23, 2011, from 5:30 PM – 9:30 PM (ET), on Pier 5, Brooklyn Bridge Park, Brooklyn, NY 11201.